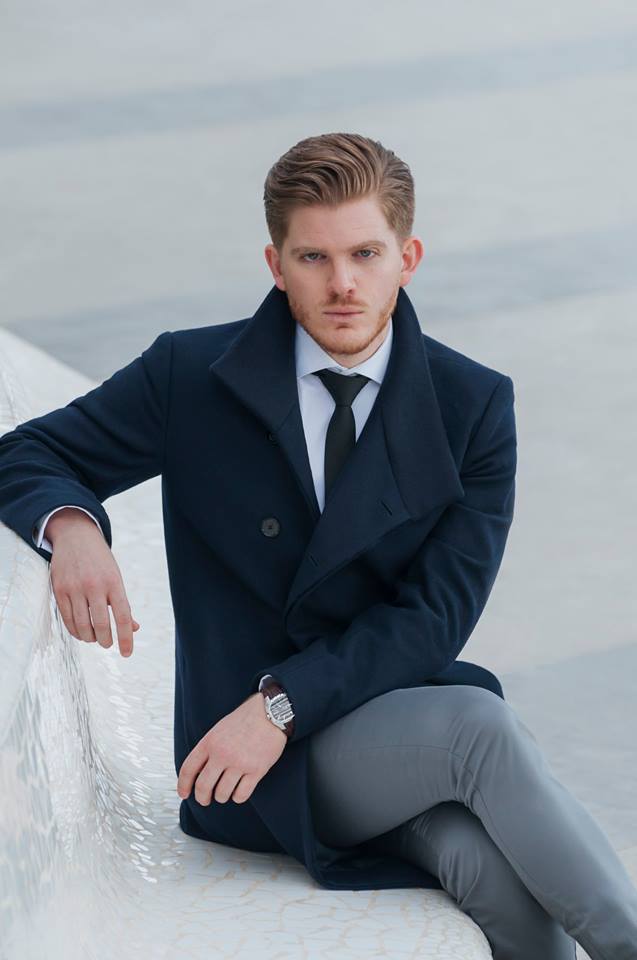 Santiago Sanchez
Santiago Sanchez nasce nel 1992 a Montevideo e cresce in Spagna ad Alicante dove studia pianoforte presso il Conservatorio di Torrevieja.
A 18 anni inizia lo studio vero e proprio del canto a Valencia al Conservatorio di Ontinyent.
Nel 2013 fa il suo debutto come solista nel Requiem di Mozart nell'Auditorium Internazionale di Torrevieja. Si è diplomato in canto presso l'Università del Mozarteum di Salzburgo nella classe del Prof. Mario Diaz.
Nel 2015 canta la 9. Sinfonia di Beethoven presso il Festspielhaus di Füssen per gli Europa-Tage der Musik .
Nel 2016 debutta il ruolo del Podestà ne "La finta giardiniera" di Mozart in una produzione del Mozarteum di Salisburgo. Nel Febbraio dello stesso anno canta il ruolo del "Lehrbuben" nella produzione dei "Die Meistersinger von Nürnberg" presso il Teatro alla Scala di Milano.
Presso il Mozarteum debutta nel 2017 con grande successo il ruolo di Lenski in "Eugene Onegin" di Tchaikovsky e Oronte nell'Alcina di Haendel. Nell'autunno 2017 debutta presso lo Staatsoper di Vienna nel ruolo del Hitzigen Spieler ne "Der Spieler" di Sergej Prokofjew diretto da Simone Young con la regia di Caroline Gruber.
Nello stesso anno debutta con successo il ruolo di Nemorino in "Elisir d'amore" di G. Donizetti presso il Festival di Bad Aibling diretto da Richard van Schoor.
Nel 2018 ha cantato il ruolo di Polidoro nella "Finta semplice" di Mozart ed è stato solista nel Requiem di Mozart al Teatro Ristori di Verona con l'Orchestra Filarmonica Italiana diretta da M. Caldi. Successivamente è stato Tamino in "Die Zauberfloete" in una lunga tournee in Spagna. Ha debuttato successivamente il ruolo di Alfredo Germont in "Traviata" presso il Teatro di Piacenza con la regia di Leo Nucci e la direzione di Piergiorgio Morandi. Nel luglio 2019 è stato impegnato nella "Zaide" di Mozart come Soliman e come Don Asdrubale presso il Tiroler Festspiele Erl diretto da Beomseok Yi. Ha cantato il ruolo del Lampionaio nella" Manon Lescaut" di Puccini presso l'Opera di Francoforte diretto da Lorenzo Viotti con la regia di Alex Ollé. Nella stagione 2020/21 presso il Teatro dell'Opera di Bonn (Germania) ha debuttato come Albert nell'opera "Leonore 40/45" di Rolf Liebermann seguito dal Graf Elemer in "Arabella" di Strauss e nella stagione 2021/22, ha debuttato Don Carlo in "Don Carlo" di Verdi e Alfred in "Fledermaus". Nel marzo 2022 è impegnato presso il Teatro di Dortmund come Taseh nell'opera "Die Kinder des Sultans" di A. Dorman. Prossimamente sarà ospite per un concerto operistico presso il Teatro di Essen. Tra i progetti futuri il debutto in Don Ottavio in Don Giovanni di Mozart
English
Santiago Sanchez was born in 1992 in Montevideo and grew up in Spain in Alicante where he studied piano at the Conservatory of Torrevieja.
At the age of 18, he began to study singing seriously in Valencia at the Conservatory.
2014 he moved to Austria to study singing at the University of the Mozarteum in Salzburg in the class of Prof. Mario Diaz.
2015 he sang the 9.Symphony by Beethoven at the Festspielhaus in Füssen for the Europa-Tage der Musik.
2016 he made his debut in a production of the Mozarteum in Salzburg as Podestà in Mozart's "La finta giardiniera" In February of the same year he sang the role of "Lehrbube" in the production of "Die Meistersinger von Nürnberg" at the "Teatro alla Scala" in Milan.
2017 at the Mozarteum Salzburg he made his debut with great success in the role of Lenski in "Eugene Onegin" by Tchaikovsky and Oronte in the Alcina by Händel, as well as debuting at the Vienna State Opera in the role of krankhafter Spieler in "Der Spieler" by Sergej Prokofjew conducted by Simone Young under the direction of Caroline Gruber.
In the same year, he successfully debuted the role of Nemorino in "Elisir d'amore" by G. Donizetti at the Bad Aibling Festival directed by Richard van Schoor.
Recently, he was Polidoro in Mozart's "Finta semplice" at the Mozarteum in Salzburg and he participated in Vespri siciliani/Verdi at the Festival "Gut Immling" in Germany. He sang in Mozart's Requiem at the Teatro Ristori in Verona with the Italian Philharmonic Orchestra.
2018 engagements: the role of Soliman in Zaide by Mozart at the Tiroler Festspiele Erl, Tamino in Zauberflöte in a tour of Spanish theaters, December 2018 at the Teatro Comunale di Piacenza – Italy in the role of Alfredo in Traviata under the direction of Maestro Leo Nucci. In summer 2019 he sang as Soliman and Don Asdrubale in the Mozart's "Zaide"at the Tiroler Festspiele Erl led by Beomseok Yi. In Oktober/November 2019 he sang the role of the Lampionaio in "Manon Lescaut" by Puccini at the Oper Frankfurt led by Lorenzo Viotti and directed by Alex Ollé.
During the saison 2020/21, at the Theater Bonn (Germany) he debuted the role of Albert in Rolf Liebermann's "Leonore 40/45" followed by the role of Graf Elemer in "Arabella" by Strauss and in the season 2021/2022, he sang in the same theater the roles of Don Carlo in "Don Carlo" by Verdi and also be engaged in other productions such as "Fledermaus"/Alfred. In march 2022 he will sing the role of Taseh in "Die kinder des Sultans" by A. Dorman at the theater Dortmund. Next he will sing an operaconcert at the theater Essen. Future projects include a debut as Don Ottavio in "Don Giovanni" by Mozart.

Aria di Tamino - Dies Bildnis ist bezaubernd schön

Aria di Tamino - Dies Bildnis ist bezaubernd schön

W. A. Mozart - Die Zauberfloete

>