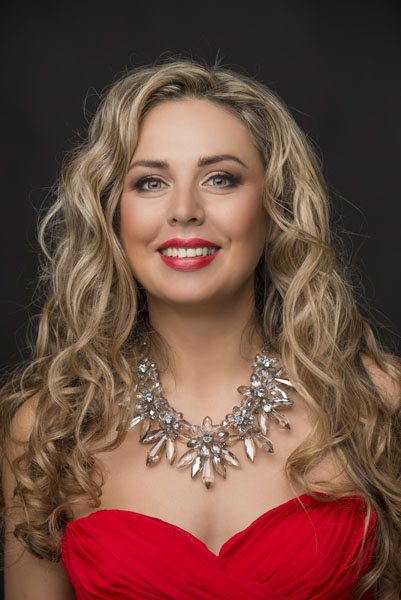 Albina Khripkova
Albina Khripkova è nata a Yaroslavl. Si è laureata al Yaroslavl Musical College dal nome del Dipartimento di musica di Sobinov presso l'Università pedagogica statale russa A. Herzen (San Pietroburgo).
Khripkova ha iniziato la sua carriera professionale nel 1997 al Teatro di San Pietroburgo. Dal 2000, è solista principale della Yaroslavl State Philharmonic. Albina si è esibita con un gran numero di orchestre rinomate russe.
Nel 2003 Albina Khripkova ha vinto il primo premio al Concorso internazionale intitolato a I. Yurieva in Estonia. Nel 2007 ha ricevuto il prestigioso Premio russo del Distretto Federale Centrale "Per realizzazioni in letteratura e arte". E nel 2008 è stata vincitrice della competizione internazionale per cantanti d'opera intitolata a B. Shtokolov, nonché di un premio speciale al concorso internazionale di cantanti d'opera in Italia, ad Alcamo.
Ha preso parte a numerosi progetti di opere dell'Orchestra Sinfonica del Governatore Accademico dello Yaroslavl come "Le nozze di Figaro" di Mozart, "Butterfly" di Puccini, "Il telefono",di Menotti, Iolanta, Eugene Onegin di Čajkovskij , Demone di Rubinstein e altre.
Nel 2008-2009, Albina ha partecipato al progetto teatrale internazionale (musical) "Spin" di D. Pashley dove è stata l'interprete principale. Nel maggio 2016 ha preso parte al festival musicale intitolato a Irina Arkhipova, così come al party giubilare di People's Artist dell'URSS V. Piavko al Helikon Opera Theatre.
La Khripkova è anche vincitrice del premio della Central Federal University "Per realizzazioni nel campo dell'arte musicale"e vincitore del 2 ° premio al Concorso internazionale di cantanti lirici intitolato a B. Shtokolov (San Pietroburgo).
Tra i suoi ruoli debuttati con successo elenchiamo la Hanna Glavary in "Vedova allegra", Cio-cio-san in "Madama Butterfly", Zemfira in "Aleko", Tosca in "Tosca", Aida in "Aida", Leonora in "Trovatore" e recentemente la Desdemona in "Otello" all'Helikon Theatre, Lady Macbeth in "Macbeth" alla Concert hall di Mosca, Rosalinde nel "Fledermaus" e la Mariza in "Grafin Mariza" a Mosca, Lisa nella "Queen of spade", Tatiana in "Eugene Oniegin", ed infine Santuzza in "Cavalleria rusticana" a Genova.
English
Albina Khripkova was born in 1983 in Yaroslavl. She completed her singing studies at the Yaroslavl Musical College and at the Russian State Pedagogical University A. Herzen in St. Petersburg. Khripkova began her professional career in 1997 at the St. Petersburg Theater. In 2003, Albina Khripkova won the first prize at the Yurieva International Competition in Estonia. In 2007, she received the prestigious Russian Prize of the Central Federal District "For Achievements in Literature and Art". And in 2008 she won the international competition for opera singer "B. Shtokolov", as well as a special prize at the International Opera Singer Competition in Italy, Alcamo. She has sung in numerous operas with the Academic Symphony Orchestra of Yaroslavl in "The Marriage of Figaro" by Mozart, "Butterfly" by Puccini "The Telephone" by Menotti, Jolanthe, Eugene Onegin. Since 2000, she sings in the ensemble of the Yaroslavl State Philharmonic and has sung: Turandot in Turandot, Cio-cio-san in Madama Butterfly, Zemfira in Aleko, Tosca in Tosca, Aida in Aida, Leonora in Trovatore. She debuted Desdemona in "Otello" at the Helikon Theater in Moscow, Lady Macbeth in "Macbeth" alla Mosca Concert Hall, Lisa "Queen of spades", Tatiana in "Eugene Oniegin". In March 2018 she sang the role of Santuzza in "Cavalleria rusticana" at the Gori Theater in Genova / Italy. Directed by the director Alberto Paloscia of the theater Goldoni in Livorno.
Sola,perduta,abbandonata

Sola,perduta,abbandonata

Puccini Manon Lescaut

>