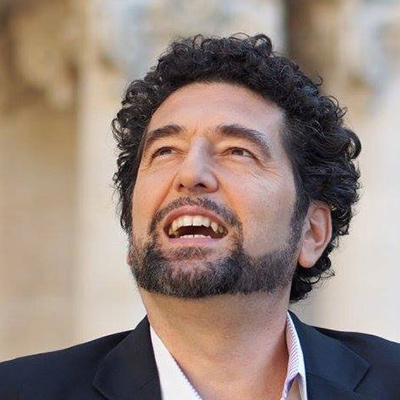 Paolo Ruggiero
Paolo Ruggiero inizia la sua attività in ambito musicale fin da giovane come flautista e si diploma brillantemente in canto dopo avere seguito studi regolari presso il Conservatorio di Bari. Ultimamente è stato Don Giovanni nel "Don Giovanni" mozartiano presso il Teatro di Massy/Parigi. Trai ruoli da lui interpretati ricordiamo il Conte di Luna in "Trovatore", Figaro in "Barbiere", Scarpia in Tosca , Marcello in Boheme, Rigoletto , Sharpless in Butterfly, Renato in "Un ballo in maschera" a Cadiz, Alicante, Toledo, Massy, Versailles, Malaga, Barcellona, Saragoza, Madrid.
Debutta come BARITONO con "Cavalleria Rusticana" di Mascagni (nel ruolo di Alfio); di seguito "Il Barbiere di Siviglia" di Rossini per il Teatro La Fenice di Venezia, "La Fanciulla del West" e "Manon Lescaut" (direttore Angelo Campori) per il Festival Pucciniano di Torre del Lago. Riceve riconoscimenti per l'interpretazione del ruolo di Lescaut e di conseguenza è chiamato, nella stessa stagione e per lo stesso ruolo, nei teatri di Cosenza, Mantova, Jesi e Lecce.
Per il Teatro Pergolesi di Jesi e il Festival Internazionale di S. Gimignano ha cantato nella "Carmen" di Bizet (Escamillo); seguiranno "Bohème" di Puccini per il Teatro Lirico di Cagliari), "Hänsel und Gretel" di Humperdinck per il Teatro Regio di Torino, l'opera "Gloria" di Cilea, di cui è stata fatta un'incisione discografica per la Kicco Music, durante il Festival Internazionale di S.Gimignano. Seguono"Lucia di Lammermoor" (nel ruolo di Enrico), "Rigoletto" (nel ruolo omonimo) , "Traviata" (nel ruolo di Germont), e "Trovatore" (nel ruolo del Conte di Luna). Quindi i ruoli di Sharpless "Madama Butterfly" di G. Puccini e Malatesta nel "Don Pasquale" di G. Donizetti.
Canta il ruolo di Scarpia nella "Tosca" di G. Puccini a Klagenfurt e Karlsruhe.
A Klagenfurt è Nabucodonosor in "Nabucco" , Mustafa' ne "L' Italiana in Algeri" e Dulcamara in "L'elisir d'amore" di G. Donizetti . A Pisa è Gianni Schicchi in "Gianni Schicchi" di G. Puccini. Debutta il ruolo di Macbeth al teatro di Sofia e allo Stadttheater di Augsburg.
E' interprete anche di Don Alfonso in "Così fan tutte" di W. A. Mozart e di Don Alfonso Duca di Ferrara in "Lucrezia Borgia" di G. Donizetti a Wiesbaden.
Debutta Ford nel "Falstaff" di G.Verdi e "Manfredo" in "Il Giuramento" di Mercadante , Rigoletto, Alfio in "Cavalleria Rusticana" e Tonio in "Pagliacci" allo Stadttheater di Giessen (Germania) allo Stadttheater di Giessen. E' "Giorgio Germont" in "La Traviata" , Scarpia in "Tosca", Renato in "Un ballo in maschera", Barnaba in "Gioconda" , Gerard in "Andrea Chenier" di Giordano a Erfurt. Reinterpreta "Nabucco" per l'Opernfestspiele di St. Margarethen.
E' Amonasro in "Aida" di G. Verdi per il Capetown Opera House. Al Teatro Opera Giocosa di Savona è Sharpless in "Madama Butterfly".
E' interprete di Sonora in "Fanciulla del West" di Puccini per il Teatro Politeama Greco di Lecce e debutta al Teatro di Stato di Wuerzburg nell'Africana di Meyerbeer. Nel 2021 ha cantato al Festival di Casciana Lirica in ruolo di Figaro nel Barbiere rossiniano. Nel 2022 sarà Nabucco in "Nabucco" di G. Verdi all'opera di , Valencia, Alicante, Toledo, Granata, Carcassonne e prossimamente a Massy(Parigi)
English
Paolo Ruggero began his activity in the musical field since he was young as a flutist and graduated brilliantly in singing after having followed regular studies at the Conservatory of Bari.
In 2020 he sang the role of Don Giovanni in "Don Giovanni " by Mozart at the Theater of Massy/Paris. In 2021 he sang Figaro in the "Barbiere di Siviglia at the Festival Casciana Lirica in Italy. In 2022 he will sing the role of Nabucco in " Nabucco" by Verdi in Valencia, Alicante, Toledo, Granata, Carcassonne e prossimamente a Massy(Parigi).
Currently he has to his credit over forty main roles as baritone and bass-baritone: "Nabucco", "Macbeth", Verdi 's "Rigoletto". He is Amonasro in "Aida", Don Carlos in "Ernani", G.Germont in "La Traviata", Renato in "Ballo in Maschera", Ford in "Falstaff" or Conte di Luna in "Il Trovatore"… passing through the characters in works of G. Donizetti such as Don Pasquale and Malatesta in "Don Pasquale", Dulcamara in "Elisir d'Amore", Don Alfonso in "Lucrezia Borgia". He had interpreted the roles of Don Giovanni in "Don Giovanni", Figaro and Il Conte in "Le Nozze di Figaro" or Don Alfonso in "Cosí fan Tutte" in Mozart´s Operas. He had sung "Gianni Schicchi" by Puccini, "La Bohéme", "Madama Butterfly", and he was Scarpia in "Tosca" or Lescaut in "Manon Lescaut". Paolo Ruggiero had also worked in diverse operas by authors like Giordano in "Andrea Chenier" as Gerard, Bizet in "Carmen" as Escamillo, Ponchielli in "Gioconda" as Barnaba, Rossini in "Il Barbiere di Siviglia" as Figaro and in "L'Italiana in Algeri" as Mustafá.
He has worked with conductors such as Zubin Mehta, Angelo Campori, Marco Armilliato, Henry Nanasi, Jaques Blanc... in Festivals and Theatres like Regio in Turin, Fenice in Venice, Alt Oper in Frankfurt, Augsburg, Erfurt, Kalgenfurt, Paris, Vienna, Cape Town, Hamburg, Málaga, Sofia, Madrid, Barcelona...etc.
Te Deum - Scarpia

Te Deum - Scarpia

Puccini - Tosca

>