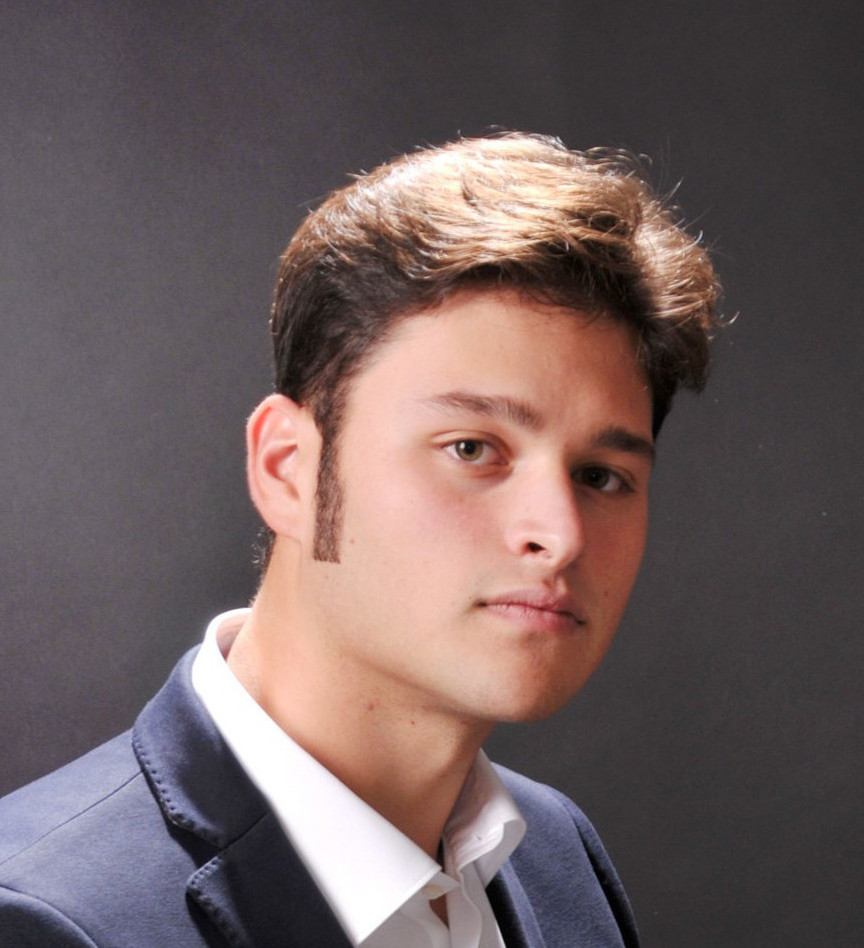 Michelangelo Ferri
Michelangelo Ferri nato a Massa (MS)nel 1999, dall'età di 9 anni coltiva la passione e lo studio del canto, ricevendo numerosi apprezzamenti tra cui il secondo premio al concorso "Parma Lirica" nel 2011 il Primo Premio al Concorso di Esecuzione Musicale di Empoli e finalista, non ancora ventenne, al concorso "Voci In-Canto" di Uzzano. Ha partecipato a manifestazioni tra Massa, Lucca, Pistoia, Siena e Roma dove, presso l'Accademia di Romania, ha rappresentato l'Italia in occasione della rassegna internazionale "La musica e il suo linguaggio" . Nel febbraio 2019 ha debuttato al Teatro di Broni (Pavia) nel Don Giovanni di Mozart nel ruolo di Masetto, al termine di una Masterclass con il Soprano Barbara Frittoli. Recentemente è stato chiamato dal M.° Gustav Kuhn ad esibirsi in due importanti concerti organizzati dall'Accademia di Montegral. Nel Novembre 2020 è stato tra i protagonisti del concerto "Cori in concerto 2020" tenutosi nella Cattedrale di San Martino di Lucca con la direzione del M°. Gianfranco Cosmi e trasmesso in diretta televisiva.
Nell'estate 2021 ha debuttato i ruoli di Sciarrone in "Tosca" diretto dal M° A.Veronesi con la regia di Stefania Sandrelli e del Doganiere ne "La Bohème" di G. Puccini presso il Festival Puccini di Torre del Lago diretto da E. Calesso nella regia di Ettore Scola. Prossimamente sarà il Marchese D'Obigny nella "Traviata" at the Teatro Verdi in Pisa.
English:
Michelangelo Ferri was born in Massa (MS) in 1999, since the age of 9 years cultivates the passion and the study of singing, receiving numerous awards including the second prize in the competition "Parma Lirica" in 2011, the First Prize at the Competition of Musical Execution of Empoli and finalist, not yet twenty years old, the competition "Voci In-Canto" of Uzzano. He has participated in events between Massa, Lucca, Pistoia, Siena and Rome where, at the Academy of Romania, represented Italy at the international review "Music and its language" . In February 2019 he made his debut at the Theatre of Broni (Pavia) in Mozart's Don Giovanni in the role of Masetto, at the end of a Masterclass with Soprano Barbara Frittoli. Recently he has been called by M.° Gustav Kuhn to perform in two important concerts organized by the Academy of Montegral in Lucca. In November 2020 he was among the protagonists of the concert "Choirs in concert 2020" held in the Cathedral of San Martino in Lucca under the direction of Maestro Gianfranco Cosmi and broadcast live on television.
In 2021 he sang the role of Sciarrone in "Tosca" by G.Puccini led by M° A. Veronesi and directed by Stefania Sandrelli and the role of the Doganiere in "La Bohème" by Puccini led by Enrico Calesso. Future events include the role of Marchese D'Obigny in "La Traviata" by Verdi at the Teatro Verdi in Pisa.
Faust -
Faust -

"Avant de quitter ces lieux" aria di Valentin dal "Faust" di C. Gounod Michelangelo Ferri, baritono
>