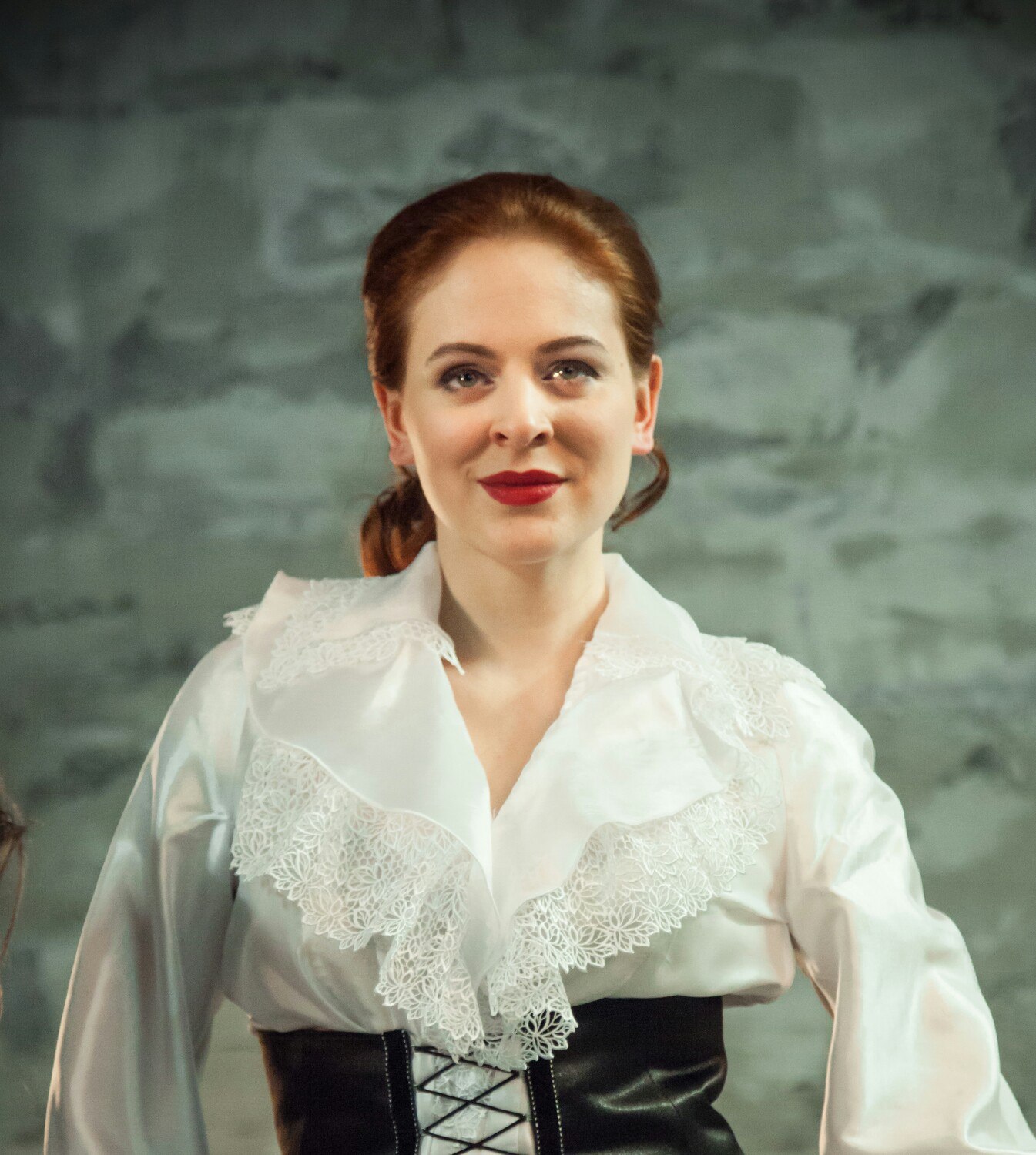 Daria Rositskaya
La mezzo-soprano Daria Rositskaya è nata nel 1987 a San Pietroburgo in Russia.
La sua formazione professionale artistica avviene presso la Mariinsky Music Academy per giovani cantanti nella sua città natale.
Si perfeziona in Germania con Stephan Rügamer, in Inghilterra con Ian Partridge ed in Italia con Franco Pagliazzi.
Nel 2018 è vincitrice del 2 ° premio al Concorso Internazionale di Canto "Antonin Dvorak".
Attualmente è impegnata presso il Teatro Zazerkali di San Pietroburgo.
Nel Novembre 2020 sarà Angelina nella "Cenenerentola" di Rossini al National Theatre Prague, con recite che proseguiranno fino a Febbraio 2021.
Ruoli interpretati:
Carmen / "Carmen" presso l'Opera da camera di Rheinsberg e presso il Teatro Zazerkali - concerto nel ruolo di Carmen anche presso la Music - Hall di San Pietroburgo con l'Orchestra Sinfonica del Nord guidata da Fabio Mastrangelo.
Al teatro Zazerkali ha cantato, tra le altre, nelle seguenti opere:
Isabella ne "L'italiana in Algeri" / Rossini, "Cenerentola" / Rossini nel ruolo della protagonista, Lucilla ne "La Scala di Seta"/ Rossini , Doralice ne "La Gazzetta"/Rossini, Nicklausse nei "Racconti di Hoffmann" / Jacques Offenbach, Dorabella in "Così fan tutte" / Mozart, Cherubino ne "Le nozze di Figaro" / Mozart, La Signora Noah in "Noye's Fludde" / Britten, Dido in "Dido and Aeneas" / Purcel.
Attiva nel settore concertistico citiamo le sue interpretazioni di:
Wesendonck-songs -Richard Wagner, Requiem / W. A. Mozart, sinfonia n. 9-Ludwig Van Beethoven, Stabat Mater - Pergolesi
English:
Mezzo-soprano Daria Rositskaya was born in 1987 in Saint Petersburg, Russia.
Artistic Vocal Training: Mariinsky Music Academy for young singers in her hometown completing them in Germany with Stephan Rügamer, in England with Ian Partridge and in Italy with Franco Pagliazzi.
2018 winner of the 2nd prize in the "International Singing Competition Antonin Dvorak".
Currently she is engaged at the Zazerkali Theater in Saint Petersburg.
In November 2020 she will sing the role of Angelina in "La cenerentola" by Rossini at the National Theatre of Prague. Performances until February 2021.
Sung Opera roles:
Carmen / Carmen at the Kammeroper Schloss Rheinsberg as well as at the Zazerkali Theater, Carmen in Concert at the Music - Hall in St.Petersburg with the Northern Symphony Orchestra under the baton of Fabio Mastrangelo.
At the Zazerkali Theater she sang, among others, in the following operas:
Isabella in "L'italiana in Algeri" / Rossini, Cenerentola / Rossini the role of the protagonist, Lucilla in " La Scala di Seta" / Rossini, Doralice in "La Gazzetta", Nicklausse in "Hoffmann's stories" / Jacques Offenbach, Dorabella in "Cosi fan tutte" / Mozart, Cherubino in "Nozze di Figaro" / Mozart, Noah's wife in Noye's Fludde / Britten, Dido in "Dido and Aeneas" / Purcel.
Sang in concerts:
Wesendonck-songs -Richard Wagner, Requiem / W. A. Mozart, Symphony no. 9 -Ludwig Van Beethoven, Stabat Mater - Pergolesi
Deutsch
Die Mezzosopranistin Daria Rositskaya wurde 1987 in Sankt Petersburg/Russland geboren.
Künstlerische Berufsausbildung: Mariinsky Musikakademie für junge Sänger in ihrer Heimatstadt.
Perfektionierte sich in Deutschland mit Stephan Rügamer und in England mit Ian Partridge, in Italien mit Franco Pagliazzi.
2018 Gewinnerin des 2.Preises beim internationalen Gesangswettbewerb Antonin Dvorak.
Ist zur Zeit am Theater Zazerkali in Sankt Petersburg engagiert.
Gesungene Opernrollen:
Carmen/"Carmen" an der Kammeroper Schloss Rheinsberg sowie am Theater Zazerkali, konzertant Carmen in der Music - Hall in St.Petersburg mit dem Sinfonie Orchester Northern unter der Leitung von Fabio Mastrangelo.
Am Theater Zazerkali sang sie unter anderem in folgenden Opern:
Isabella in" L'italiana in Algeri" /Rossini, "Cenerentola" /Rossini die Rolle der Protagonistin, Lucilla in "La Scala di seta"/Rossini, Doralice in "La Gazzetta"/Rossini, Nicklausse in "Hoffmanns Erzählungen"/Jacques Offenbach, Dorabella in "Cosi fan tutte"/Mozart, Cherubino in "Nozze di Figaro"/Mozart, Frau Noah in "Noye's Fludde"/Britten, Dido in "Dido and Aeneas"/Purcel.
Sang in Konzerten:
Wesendonck -Lieder -Richard Wagner, Requiem/W. A. Mozart ,Sinfonie No. 9 -Ludwig Van Beethoven, Stabat Mater - Pergolesi
"Cruda sorte"

"Cruda sorte"

"L"italiana in Algeri" Rossini

>