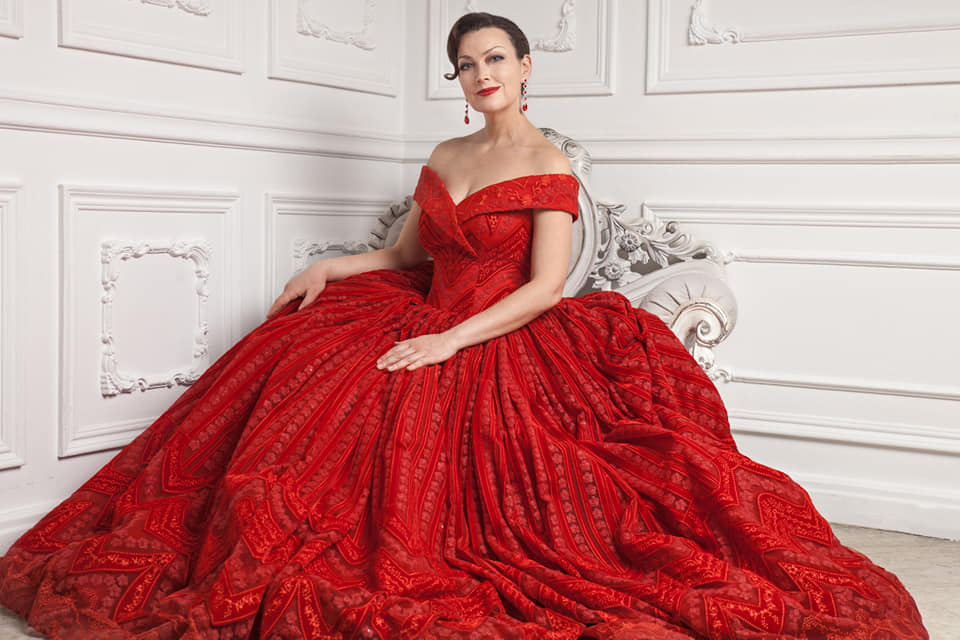 Svetlana Kotina
Svetlana Kotina è nata a Samara in Russia.Si è perfezionata alla Galina Vishnevskaya Opera Center. Ha cantato il ruolo di Sigrune nella" Walkiria" di Wagner nel Tchaikovsky Concert Hall di Mosca diretta da Kent Nagano. Segue con grande successo "Das Lied von der Erde" al Festival di Toblach. Presso il Teatro di Erl è stata Fricka nell'opera "Rheingold" , 2 Norn in "Gotterdammerung"di R.Wagner. Quindi Waltraute in"Götterdämmerung" e Fenena in "Nabucco" diretta dal Maestro Gustav Kuhn e l'Oratorio di Natale di Bach. Con Walküre e Götterdämmerung è stata al Music Festival di Bejing . Negli ultimi anni è stata spesso ospite al Festival di Erl cantando: " Weihnachtsoratorium" di Bach ,"Walkure"/Fricka , "Gotterdammerung"/Waltraute, Arsace in "Semiramide" , Messa di Requiem di Giuseppe Verdi, Kundry e Blumenmaedchen in" Parsifal ", Andromaca nell"Ermione" di Rossini,1.Drossel in "Die Voegel" di Braunfels, mezzosoprano nella Messa di Requiem di G. Verdi, Petit Messe Solennelle di Rossini.
Ha interpretato la Messa di Gloria di Vivaldi a Lucca diretta da Gianfranco Cosmi. Nel 2019 è stata Carmen nella "Carmen " di Bizet riscuotendo un grande successo presso l'Opera di Brasov e quindi in tournee in diversi teatri austriaci e tedeschi ( Wels, Augsburg...etc.). Ultimamente ha debuttato il ruolo di Azucena in "Il trovatore" di G. Verdi presso il Teatro di Ruse in Bulgaria con la regia di Orlin Anastassov e successivamente in tournee in Austria, Germania e Svizzera.

English:
Svetlana Kotina was born in Samara Russia where she studied singing at the Russian Gnessin Music Academy, then she attended the Galina Vishnevskaya Opera Center for three years. She has sung the role of Sigrune in the "Walküre" by Wagner at the Tschaikovsky Concert Hall in Moscow under the direction of Kent Nagano. At the Tiroler festspiele Erl under the baton of Maestro G. Kuhn she sang: Fricka in "Rheingold" , 2 Norn in "Götterdämmerung", Fricka in the "Walküre", Waltraute in "Götterdämmerung" , Fenena in "Nabucco",Weihnachtsoratorium by Bach, Arsace in "Semiramide" , Verdi's "Messa di Requiem" Andromaca in "Ermione" by Rossini, 1.Drossel in "Die Voegel" by Braunfels, Petit Messe Solennelle by Rossini. In the church of San Francesco in Lucca she sang Vivaldi's Gloria. Recently she was Carmen in the opera "Carmen" by Bizet enjoying a great success at the Brasov Opera and then on tour in various Austrian and German theaters (Wels, Augsburg ... etc.) and Azucena in " Il trovatore" at the theater in Ruse (Bulgaria) directed by Orlin Anastassov and than she sang many performances of the that role in many theater in Austria, Germany and Switzerland.

TRAILER

>