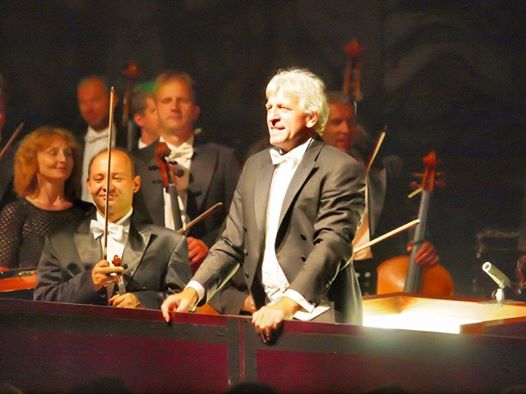 Gion Gieri Tuor
Gion Gieri Tuor nasce a Rabius(CH) e attualmente risiede in Obersaxen. Studia Direzione di orchestra presso il conservatorio di Lucerna presso il quale si diploma. Si perfeziona in direzione di coro sotto la guida di Erich Widl, direttore del coro dell'Opera di Zurigo. Si perfezione in direzione d'orchestra con Lazlo Pogany al Conservatorio di Feldkirch e con György Selmeczi a Budapest. Prosegue il suo perfezionamendo in direzione d'orchestra con Andreas Spörri. Ha studiato canto con Armin Caduff e Gaetano Bordini. Come direttore ha iniziato dirigendo diversi cori di lingua tedesca e formazioni strumentali costituite da strumenti a fiato. Nel 2004 è fondatore e direttore dell'orchestra Giuseppe Verdi in Ungheria.
Delle sue direzioni operistiche più importanti ricordiamo le produzioni verdiane di "Nabucco", "Ernani", "I Lombardi" (Opera Viva 2006), "Macbeth"(Opera Viva 2012), e Rossiniane "Mosè"(Opera Viva 2007), "Guglielmo Tell" (2016)," l'Elisir d'amore" di Donizetti( Opera Viva 2008) ed il " Der Freischütz"(Opera viva). Nel 2018 dirige "Carmen" (Opera Viva).
Nell'anno 2009 Gion Gieri Tuor è nominato Direttore Artistico del Festival Opera Viva.
Da menzionare sono le sue partecipazioni come direttore dei concerti alla Galerie Mirer nell'ambito dei "Festlischen Konzerte zum Jahresausklang"(Obersaxen) con composizioni di diversi autori di diverse epoche. Tra le ultime esecuzioni ricordiamo la "Missa in tempore belli" di Josef Haydn.
Del repertorio sinfonico ricordiamo le sinfonie di Haydn,Mozart, L.v.Beethoven e F. Poulenc, il concerto per violino di F. Mendelssohn-Bartholdy, Composizioni sinfoniche di compositori russi ma anche composizioni di G.A.Derungs.
English:
Born and raised in Rabius, Gion Gieri Tuor now lives in Obersaxen. He studied conducting at the Lucerne Conservatory, which he successfully completed with a conducting diploma.
As a choral conductor he studied with Erich Widl, choral director at the Zurich Opera House. He then studied orchestra conducting with Laszlo Pogany at the Landeskonservatorium in Feldkirch and with György Selmeczi in Budapest. This was followed by intensive further training as a conductor with Andreas Spörri in Basel.
Gion Gieri Tuor received his training in solo singing with Armin Caduff and Gaetano Bardini. Since 2004 Gion Gieri Tuor has been conductor of the "philharmonia opera viva" in Hungary, which he co-founded.
Among the highlights of his conducting career so far are undoubtedly the performances of the operas composed by Giuseppe Verdi "Nabucco" (opera viva 2010), "Ernani" (cultural events of EMS-Chemie), "I Lombardi" (opera viva 2006), Macbeth" (opera viva 2012), Gioachino Rossini's opera "Mosé" (opera viva 2007), "Guglielmo Tell" (opera viva 2016), Gaetano Donizetti's opera buffa "L'Elisir d'amore" (opera viva 2008) and with Carl Maria von Weber's "Der Freischütz" a German opera was performed for the first time in 2016.
Also worth mentioning are the concerts initiated by the Mirer Gallery as part of the "Festive Concerts to End the Year" from 2004 to 2017, with works by a wide variety of composers from all periods of music history. Last year, on the occasion of these concerts, he performed the "Messe Solennelle" by Charles Gounod.
In 2009, Gion Gieri Tuor was elected overall artistic director of Opera Viva Festival. at the 2018 Summer Festival, he conducted the opera "Carmen" by Georges Bizet .
Deutsch
In Rabius geboren und aufgewachsen, lebt Gion Gieri Tuor heute in Obersaxen. Sein Studium als Dirigent hat er am Konservatorium in Luzern gemacht, welches er mit dem Dirigentendiplom erfolgreich beendete.
Als Chorleiter bildete er sich unter anderen bei Erich Widl, Chordirektor am Opernhaus Zürich weiter. Anschliessend studierte er Orchesterdirektion bei Laszlo Pogany am Landeskonservatorium in Feldkirch und bei György Selmeczi in Budapest. Danach folgte eine intensive Weiterbildung als Dirigent bei Andreas Spörri in Basel.
Seine Ausbildung für Sologesang erhielt Gion Gieri Tuor bei Armin Caduff und Gaetano Bardini. Seit dem Jahre 2004 ist Gion Gieri Tuor Dirigent der vom ihm mit gegründete "philharmonia opera viva" in Ungarn.
Zu den Höhepunkten seiner bisherigen Dirigententätigkeit gehören zweifellos die Aufführungen der von Giuseppe Verdi komponierten Opern "Nabucco" (opera viva 2010), "Ernani" (Kulturanlässe der EMS-Chemie), "I Lombardi" (opera viva 2006)," Macbeth" (opera viva 2012), Gioachino Rossinis Oper "Mosé" (opera viva 2007), "Guglielmo Tell" (opera viva 2016), Gaetano Donizettis Opera buffa "L'Elisir d'amore" (opera viva 2008) und mit Carl Maria von Webers "Der Freischütz" gelang im Jahre 2016 erstmals eine deutsche Oper zur Aufführung.
Zu erwähnen sind auch die von der Galerie Mirer initiierten Konzerte im Rahmen der "Festlichen Konzerte zum Jahresausklang" 2004 bis 2017, mit Werken verschiedenster Komponisten aus allen Epochen der Musikgeschichte. Im letzten Jahr führte er anlässlich dieser Konzerte die "Messe Solennelle" von Charles Gounod auf.
Im Jahre 2009 wurde Gion Gieri Tuor zum künstlerischen Gesamtleiter der Opera Viva gewählt. beim Sommerfestival 2018 dirigierte er die Oper "Carmen" von Georges Bizet .


Trailer

>